Data centers
Fire protection solution for data centers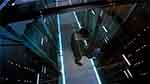 Low water consumption and harmless to people
FM approved to protect all areas of data centers
Data center fires can be catastrophic in many ways and recovery after a fire can be very costly and time-consuming. A data center houses IT equipment used to collect, process, and store data for digital activities. Thousands of servers and cables are stored inside these facilities and due to the massive power density in the electrical equipment in server rooms, there is a great risk of equipment overheating and catching fire. Data centers need fast-acting fire suppression to protect equipment, ensure personnel safety and safeguard business continuity. The VID FIREKILL low pressure watermist system provides effective and reliable fire protection for data centers and data processing equipment. The system is FM Approved to protect all areas of modern data centers including server halls, sub floors, technical rooms, offices, and more. The watermist system has a lower water consumption than traditional sprinklers, and operates at a lower water pressure than high pressure watermist systems. The VID FIREKILL system only uses potable water as a suppression agent and is safe for people and the environment.
Data centers
The solution for protecting data centers
Main benefits of the VID FIREKILL low pressure watermist system for data center fire protection:
FM Approved to protect complete data centers
Uses less water than traditional sprinkler systems
Harmless to people and the environment
Scalable
Easy to install and maintain
Minimal water damage after a fire
Protecting all areas of data centers
Data processing equipment rooms above and below raised floors
Protecting all areas of data centers
Offices, storage areas, electrical rooms, and circulation spaces
Protecting all areas of data centers
Transformers and generators
Low water flow - less power consumption
VID FIREKILL vs.
other watermist solutions and sprinklers
Other low pressure solutions
55% lower water flows
Sprinklers
80% lower water flows
High pressure
75% less power consumption
Do you want more information
download the product datasheets
View our approvals
check out our download section
Get in contact with one of our experts
Fill out the contact form, and we will get back to you as soon as possible